Collect $200...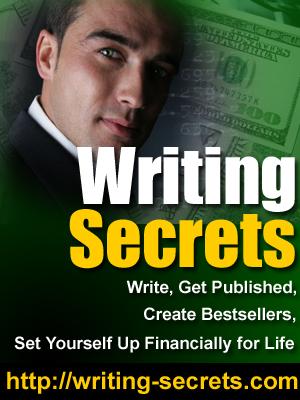 Free of charge: $200 worth of unique creative writing products just for signing up - for free!
You Get Instant Access to Everything Listed Below
Instant Access to the Unique 'Writing Secrets' Report
Here are just a few of the little-known writing secrets revealed:
1. How to get started on the path to a successful career in creative writing
2. How to master the mental blocks that might hold you back
3. How to locate 1000s of long-established traditional publishing houses online
4. How to prepare a master class proposal for publication
5. How to prepare book proposals for works of fiction
6. What to ensure before you sign any publishing contract
7. Where to find literary agents of sound repute
8. What to do when you cannot place your work
9. How to self-publish at minimal cost
10. Why just one traditionally published book could set you up financially for life
11. Sources of passive and incremental income for published authors
I could easily charge you $97 for this report, but for a limited time, you get access completely FREE of charge.
Plus You Get... Secret Video "How to Write, Get Published, Create Bestsellers, and Set Yourself Up Financially For Life!"
Fact-packed 90-second video reveals the route to success, effortlessly and seamlessly, even if you have never attempted to write anything creative before…
Plus You Get...Writing Secrets Covert Manual "How to Inject Bestselling Potential into Your Book Before You Write a Single Word!"
Learn the timeless writing secrets that all successful authors use (some consciously; others subconsciously) to inject bestselling potential into their text before they write a single word! Works for fiction and non-fiction…
Plus You Get... Secret Elite Authoring Software "Aspiring To Bestseller Status"
Jim Green personally devised this remarkable software tool to enable you to inject bestselling potential into everything you write from now on…
Collect $200 Worth of Unique Creative Writing Products!