Start a Business without a Masterplan for Success and You're 95% Certain to Fail!
Fact: Only 5% of Those Who Start a Business Make it into Year 6
"95% of small business start ups fail within 5 years. Two-thirds of new employer firms survive at least two years, and about half survive at least four years." (Source: Small Business Administration 2004).
How can this be when the same US Government source claims that small firms represent more than 99.7% of all employers? Why is the failure rate so high? Here's why. 95% of all start ups have no masterplan in position at the outset and in consequence flounder and sink without a trace. What's more, this alarming fatality quotient applies equally to offline and online enterprises. Even worse, tens of thousands more start a business every day and follow exactly the same route to disaster.
Fact: Google lists in excess of 13,000,000 web sites offering advice on how to start a business - but how many I wonder emanate from people who've actually done it for themselves. This one does. I've founded, owned and operated dozens of small businesses – and I'm still doing it. I've also authored two widely-acclaimed bestselling hard copy books on the topic, 'Starting Your Own Business' (How To Books ISBN 1-85703-859-2) and 'Starting an Internet Business at Home' (Kogan Page ISBN 0-7494-3484-8); titles that sell in big numbers online at Amazon.com and offline in bookstores throughout the world.
Hi, My Name is Jim Green

Despite the alarming failure rate for start ups (or perhaps because of it) the fact is that there has never been a better time to start a business. Government agencies world wide are creating a climate of enterprise and dispensing small business start up loans and grants to suitably qualified applicants in a concerted initiative to foster indigenous growth. To become authorized you must produce a plan, a masterplan for sustained growth.
Now I'm unzipping my case notes spanning forty years of successful independent commercial activity to present you with an all-in-one masterplan to ensure success before you start a business – and to maintain momentum in tandem with your endeavors so that you don't end up in the same place as 95% of start ups: the dump truck.
The All-in-One Start a Business Masterplan doesn't simply focus on getting you up and running. As the ultimate Start a Business compendium it goes deeper, much deeper. In its The 4 individual tutorials it aims at the creative heart of operating a small enterprise: how to start a business with failsafe offline and online strategies, how to avoid the crucial mistakes that cripple 95% of all start ups, and how to sustain progress with tried, tested, proven stratagems.
BLUEPRINT FOR FULFILMENT BEFORE YOU START A BUSINESS
The All-in-One Start a Business Masterplan will empower you to conceive your own exclusive blueprint for a happy, successful and rewarding small business operation. Plans are great things. They show you where you are going, what to do, and how to do it when you get there. Make no mistake though; you will not be creating this blueprint just to get you started. It's going to be around for a long time and you will want to review and update it regularly to take account of twists and turns along the way. That's the beauty of it. When you have a masterplan for success, you can legislate for change. Without one you cannot; you'll be like the explorer in the jungle without a map.
"Hi Jim:
Just a note to thank you for the biz help and inspiration you've given me via your newsletter. Your help has been much appreciated in the creation of my new Wellness Club website. Please take a look here and see what you think:
www.DrMyattsWellnessClub.com
Again, thanks so much for your help and inspiration :-)"
In Health, Dr. Myatt
THE ALL-IN-ONE START A BUSINESS MASTERPLAN
What this is not is a hotchpotch of miscellaneous lame-brained notions and opinions cobbled together to create a sycophantic litany. The All-in-One Start a Business Masterplan is the genuine product of my own personal experience as a successful small business owner offline and online. It consists of The 4 comprehensive tutorials, 60 full blown chapters, 555 pages, and covers every aspect of single-minded entrepreneurship: galvanizing into initial action, getting started on your plan, settling on an idea for your enterprise, tackling initial teething problems, overcoming the threatening scenarios everyone encounters along the way, and setting the course for a lifetime of fulfilment and enrichment. The good, the bad, and the in-between are all recorded: where I hit the target plumb center, where I screwed up, and how I put it right.
1. 'Devising the Masterplan for Your Start Up' 13 chapters; 245 pages; 61,597 words
2. 'Start Your Own Internet Business from Home, Shop or Office' 15 chapters; 215 pages; 36,589 words
3. 'Avoiding Costly Mistakes that Cripple Small Business' 10 chapters; 69 pages; 11,834 words
4. 'Maintaining Progress with Proven Mastermind Strategies' 21 chapters; 168 pages; 29,229 words
What you won't find in these 4 tutorials is the usual standard vacuous claptrap that many online courses contain: routine, boring, unhelpful formats repeated ad nausea. What you will find are real life case studies, enlightening exercises, tools, tips and techniques to keep your business on an even keel no matter what lies ahead.
SMALL BUSINESS START HOW
Awkward though the phrase may be, an average of 6751 people the world over type the words 'small business start how' into search engines every day – and with good reason. They want to know…

How do you start a business with any degree of certitude that it will be successful?

How do you prioritize to ensure that your 'small business start how' is on target?

How can you find out all you need to know before you start a business offline or engage in an online internet business start up?

How do you access vital information when your objective is to 'start home business on a shoestring budget'?

What do you do when your business is shop or office based and you want to set up and start online business to maximize on profitability?

"When you become your own boss, there are lots of difficult decisions to be taken. Should you be a sole trader, a partnership or a limited company? How do you raise finances? If you're renting premises, are the terms of the lease favorable? What terms should you spell out in contracts with people you do business with? How do you develop your opportunity? Read as much as you can find on the subject...including Jim Green's tutorial." THE GUARDIAN

SMALL BUSINESS START UP LOANS

Government agencies everywhere are awarding small business start up loans to qualified applicants.

What does it take to be considered 'qualified' to start a business?

How do you apply when your heart is set on an internet business start up or an offline enterprise?

Are there shortcuts you can take to expedite the process and obtain the available maximum on small business start up loans from government sources?

How do you present a professional case for loan funding?

Are there different rules if you engage in business offline or wish to start internet business online?

Would your small business start how be impaired if you fail to follow the accepted rules on applying for small business start up loans?

"Jim Green's techniques obviously work because, aside from his work as a business lecturer, he is still an active entrepreneur. His tutorial is also full of practical hints about handling tax, approaching potential funders and finding suitable premises" THE INDEPENDENT

SMALL BUSINESS START UP GRANTS

The world wide public sector is like a money tree if you know how to shake it; it is awash with small business start up grants for those who wish to strike out on their own, start a business and contribute to indigenous economic growth: grants in cash and kind; cash to provide seed money and grants to get you up and running as you develop your enterprise - and the great thing about small business start up grants is you don't have to pay them back!

"Encouraging and practical, this tutorial covers all the basics. An entrepreneur himself Jim Green knows the questions to ask" MANAGEMENT TODAY

How to Avoid the Dump Truck When You Start a Business

95% of all start ups breeze into business without a plan, cross their fingers, hope for the best – and end up in the dump truck. Refuse to join them. Equip yourself with the ALL-IN-ONE MASTERPLAN before you start your own business and join the 5% who make it all the way to the top – and stay there.

Sure, you want to start a business offline, online, or a mix of both - but you want to get it right, right from the start - continuing on to lasting success.

I challenge you to find a better deal anywhere on the internet but you won't find one because this is the genuine article; based on my own experiences as a successful independent small business owner. What you will come across though are online courses ranging from $500 to $3000 that fail to provide anything approaching the depth of wisdom contained in the

ALL-IN-ONE Start a Business MASTERPLAN Enclosed in a single 2 MB PDF file that can be read on any computer, anywhere in the world.

COMPLETE PACKAGE COMPRISING TUTORIALS 1-2-3-4.
VALUE $500
4 COMPLETE BOOKS IN ONE CONVENIENT PDF FILE
ONLY $47
SAVE $453

+ FREE BUMPER BUNDLE OF ENTREPRENEURSHIP RESOURCES DELIVERED SEPARATELY INTO YOUR COMPUTER WHEN YOU ORDER THE COMPLETE PACKAGE. TOTAL BONUSES VALUE $590

BONUS #1 '7 PSHYCHOLOGICAL SECRETS TO MAXIMUM SALES' Inside this book you will find incredible wisdom distilled from the leading marketing wizards. Use it and profit from it – because you will own the resale and distribution rights! $195 value FREE

BONUS #2 'GREATEST MARKETING SECRETS' Yanik Silver's exclusive compilation of the greatest marketing secrets down the ages; secret strategies that work as well today as ever they did. It's yours to study - then resell and keep the profits. $195 value FREE

BONUS #3 '30 DAYS TO SUCCESS' Step-by-step guide to making money online written by Stone Evans the Home Biz Guy. $50 value FREE

BONUS #4 '101 INTERNET MARKETING GEMS' Harvey Segal's superb digital starter pack is the perfect introduction to the world of online marketing and it comes to you with full branding rights. $50 value FREE

BONUS #5 'INCREASE YOUR SALES BY 1200%' Discover how to write killer ads and increase your sales by 1200%! $50 value FREE

BONUS #6 'AUTOMATED EBAY SALES FORMULA' Selling on eBay is a fun business but it involves more than just using your computer. Learn how to advertise, market, service customers, make money – and make the time to spend it. $50 value FREE

COMPLETE PACKAGE INCLUDING BONUSES VALUE $1090
TOTAL SAVING $1043

ALL-IN-ONE Start a Business MASTERPLAN YOU PAY ONLY $47

I haven't finished yet! To seal the deal I'll throw in my own bestselling product currently selling at this web site for $19.95

BONUS #7 'WRITING FOR PROFIT' Learn how to write commercially, learn how to write for profit, and learn how to convert your newly developed skills into a business of your very own. It's yours when you purchase the All-In-One Masterplan. $37 value FREE

UNCONDITIONAL LIFETIME GUARANTEE

So confident am I in the power of my exclusive ALL-IN-ONE MASTERPLAN tutorials that you can keep them for a lifetime and still request a refund anytime if you are anything less than 100 per cent satisfied with the content. No questions asked, no quibbles, no worries – and you get to retain the bonuses.

IT'S ALL COVERED IN THE ALL-IN-ONE START A BUSINESS MASTERPLAN
1-2-3-4 TUTORIALS – 555 PAGES – 4 BOOKS IN A SINGLE PDF FILE
SIMPLE, EASY TO USE, PROVIDES FAST RESULTS

It's all here – and whether your intention is to start a business offline or start your own internet business from home, office or shop, or a mixture of both – you will find what you need to add to your small business start how, ensure smooth lift-off, and make lasting progress a certainty.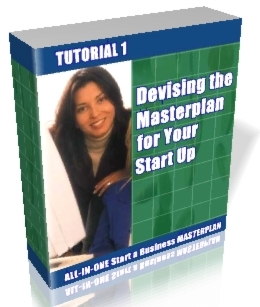 Start a Business Masterplan - Credit Card/Online Check - Click Here