If $370 was the price of the Writing for Profit tutorial I wouldn't be over-charging because its power-laden contents are derived exclusively from the secrets of my own success as a bestselling author in the realms of niche non-fiction.
For a limited period only you can have it for $19.95.
Writing for Profit downloads in a convenient PDF file which can be read on any computer, anywhere in the world. The format is ideal for reference, allowing you to switch back and forth from one topic to another using the special built-in tools.
PLUS 2 VALUABLE FREE BONUSES TO HELP YOU GET THE BEST OUT OF WRITING FOR PROFIT
"Net Writing Masters Course" If you wish to specialize in writing for the internet this free 50-page PDF book will get you up to speed in next to no time.
"Make Your Price Sell" Ensure maximization on profitability for all your e-produce with this free 120-page PDF book.
PLUS 2 FREE BONUSES COMPLETE WITH REPRINT, RESELL & DISTRIBUTION RIGHTS. PUBLISHER'S QUOTED VALUE: $195 EACH!
Bonus #1 "The Secret to Winning Every Time"
Are there any secrets that would enable you to separate yourself from the competition and win virtually every time you step into any arena of life (writing your book and having it published for example)? There is a secret that not one in 1000 knows about - and it's so simple you'll wonder why you never thought of it before.
Bonus #2 "How to Create Bestsellers Using a Simple Survey"
You may think you have a great idea for a book but how can you determine whether or not it will sell? This exclusive PDF report leads you step by step through the process of using a simple survey form to compile a list of targeted prospects.
AS YOU WILL OWN THE RIGHTS, YOU MAY SELL ON BOTH OF THESE EBOOKS - AND KEEP 100% OF THE PROFITS!
PLUS Bonus #3 "The Potential Bestsellers Ideas List"
Multi-faceted ebook (exe file) featuring 7 hot product ideas that are destined to become bestsellers online. As the holder of this special report you are entitled to receive free giveaway and branding rights.
24,000 WORD 'Writing for Profit' TUTORIAL + FREE BONUSES VALUED AT $390 – ALL YOURS TO KEEP FOR ONLY $19.95!
12 MONTHS UNCONDITIONAL GUARANTEE
So confident am I in the power of my exclusive tutorial that you can keep it for 12 months and still request a refund if you are anything less than 100 per cent satisfied with the content. Just email me jimgreen@writing-for-profit.com. No questions asked, no quibbles, no worries.

Jim Green
Founder Mentor
Writing for Profit
PS Think about this and you'll realize that you are onto a steal. My private clients incur a $1000 tab for one-to-one personal mentoring on writing for profit.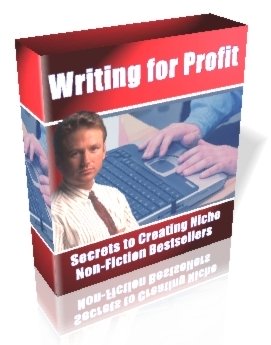 Writing Course - Pay Via Credit Card or Online Check